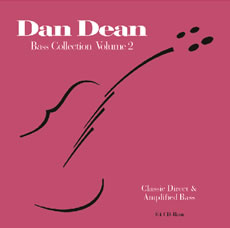 Press Play to listen to samples
Please enable JavaScript to
view the Music Player.
PRODUCT DETAILS:

Instruments Include:
Fender Jazz Bass
Fender Precision Bass
Rickenbacker 4001 Bass
Hofner Violin Bass
Gibson Thunderbird Bass
Alembic Spoiler 5-St. Bass
Washburn AB-20 Fretless
Guild Ashbory Bass
Hohner Fretless Acoustic
Acoustic Bass

In this collection, we have sampled some of the classic instruments of the 60's and 70's (as well as the 1870's). The result you will hear is a wide variety of sounds from direct, amp'ed and mic'ed sources. As in the previous collection, all of the full load banks have been chromatically sampled, which means that you have every note of the bass on the keyboard.

Also, you will notice even greater detail and depth to these basses due to our use of tube preamps, tube EQ's and vintage compression. All of the samples on this disk were processed through the Apogee UV-22 process and have low noise floor with a "more analog" sound. A number of banks were recorded with amps and mic'ed in the studio. These sound especially live and are convincingly real in a track.

For the acoustic bass, there are mono and stereo pizzicato versions. This CD-Rom includes both EIIIx and E4 banks, utilizing the expanded user controls of the E4 (like the Midi sliders and thumby button) while providing EIIIx and AKAI user access through the inclusion of the EIIIx banks. Slider A controls chorus amount. Slider B controls glide (portamento). Sliders C & D work together adjusting filter frequency and filter resonance, respectively. The thumby button, when depressed, gives a "muted" or dampened string effect.

Enhanced MIDI Control

Slider A - Chorus
Slider B - Portamento
Slider C - Filter Frequency
Slider D - Filter Resonance

** ABOUT THE DIGITAL DOWNLOADS **

Please Note: Digital download instructions will be sent within 24 hours after order is received.
Electronic Musician: Review of Dan Dean Bass Collection, Vol. 2